It's time to think about
Thanksgiving has only just passed, but the winter holidays are just around the corner. As usual, Rosemont will be there with everything you need to make the most out of your celebrations. In addition to our usual offerings and the local meats sourced by our butchers, our wonderful bakers and cooks will be crafting pies, breads and vegetarian entrées to fill your holiday tables (and stomachs). Below you'll find all the information you'll need, but should you have any questions, give us a call and we'll be happy to talk you through any questions you may have.

What are the holidays without pies and cakes? These delicious, tried and true sweet & savory cakes and pies come out of the Rosemont Bakery fresh each year. Unless otherwise indicated, they are 9″ in diameter, and feed six to eight people. To order, please call your local Rosemont by Thursday, December 20. All pies & cakes will be available for pick-up on Sunday, December 23 and Monday, December 24.
SAVORY PIES
Tourtière Pie $28.99
Ham, Broccoli & Cheddar Quiche $18.49
Mushroom & Greens Quiche $16.99
CAKES
Flourless Chocolate Torte 6″ $15.99
Basque Cake $14.99
SWEET PIES
Bourbon Pecan $22.99 Made with Maker's Mark Bourbon (so fancy!)
Local Apple Pie $18.99
Maine Wild Blueberry Pie with Lattice Crust $18.99
Chocolate Cream Pie $19.99
Pear Cranberry Ginger Pie with Walnut Crumble Top $18.99
Every year, all year long, we take care to source local meats from the suppliers we know and trust to be the best. Holiday meat orders are available by pre-order only, and we suggest you order early: supplies of some items are limited. If a meat or cut you desire is not on this list or in our case, please ask a Rosemont butcher. To order, please call your local Rosemont by Thursday, December 20. All meats will be available for pick-up on Sunday, December 23 and Monday, December 24.
LOCAL PORK
Bone In Loin Roast $9.99/lb
Boneless Loin Roast $12.99/lb
Both the bone in and boneless loin roasts come off the loin section of the animal and are known for their tender and lean center muscle.The outer edge is surrounded with a thin fat cap that is perfect for crisping in the oven.
House Cured Smoked or Roasted Hams $13.99/lb
These delicious hams come with a brown sugar and mustard glaze.
Holiday Pork Sausage $9.49/lb
This pork based sausage is great for holiday stuffings and quiches.
LOCAL BEEF
Standing Rib Roast $16.99/lb
Classically referred to as Prime Rib and known for being a very juicy and flavorful roast.
Tenderloin Roast $25.99/lb
Another classic selection but known for being a very tender and lean roast.
Top Sirloin Roast $15.49/lb
Also referred to as a "spoon roast," this cut is both lean and very flavorful.
LOCAL POULTRY
Maine-ly Poultry Free Range, All-Natural Turkeys $4.79/lb
Turkeys between 12 and 21 lbs
Maine-ly Poultry Ducks $7.49/lb
Ducks approximately 5-7 lbs each.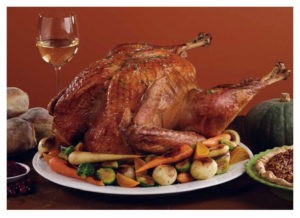 All of our breads, with the exception of sticky buns, olive levain, and oatmeal molasses levain, will be available for special order for Christmas. The Bread Team will also be making two specialty loaves for the holiday: Dried Cranberry Toasted Walnut bread and our famous Holiday Stollen. Food for holiday thought: rolls and baguettes are always the big sellers — you can really never have too many. Though our hardworking crew of bakers always makes as much as they can, we always sell out! So, we strongly suggest you call your local Rosemont to place a special order. The deadline to special order is 4pm on Sunday, December 23.
VEGGIE-LOVERS
There's one in every family (or two or three or four), and we've got you covered with these tasty entrées sure to please the vegetarians and meat-lovers alike.
To order, please call your local Rosemont by Thursday, December 20. All entrées will be available for pick-up on Sunday, December 23 and Monday, December 24.
Vegetarian Shepherd's Pie (VEGAN)  $15.99 
Organic tempeh, onion, garlic, mushrooms, peas, corn, celery, tamari, olive oil thyme, coriander, black pepper, vegetable stock, flour, parsley, potato, olive oil, salt.

Vegetable Pot Pie $14.99
Potato, Mushrooms, onion, carrot, celery, flour, tamari, thyme, sage, olive oil, our all-butter pastry, salt and pepper
Lentil Loaf $13.99 
Organic lentils, garlic, onion, carrot, celery, red pepper, oats, thyme, cumin, onion powder, salt & pepper, chipotle, ketchup, balsamic, maple syrup, eggs.

Wild Rice Stuffed Squash (VEGAN) $13.99
Squash, celery, onion, wild rice, pecans, apricots, ginger, cinnamon, cardamom, salt and pepper, olive oil.