Ever wonder what our staff is up to?
Rosemont Market & Bakery Engagement & Education: a series of events, outings, and trips designed to give our staff the opportunity to learn about and interact with different suppliers, products, or facets of Rosemont – connecting us to the source all while getting to know coworkers and (hopefully) having fun. Here you'll find the chronicles of our adventures beyond the walls of Rosemont.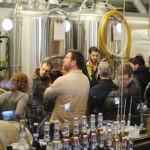 LIQUID RIOT (March 20, 2018):  Liquid Riot is a downtown Portland brewery and distillery. Under the guidance of Eric Michaud, the founder and inspiration behind it all, we learned all about Belgian, German and British approaches to brewing; the differences between lager and ale yeasts; the incredible spirit of sharing and encouragement in southern Maine's brewing community; and how a business can be family-based right down to the light fixtures. We also got to taste beer out of barrels through a nail hole. Read more about our visit here.

---
CALDWELL FAMILY FARMS (November 7, 2017): A handful of us Rosemonters had the distinct pleasure of visiting Caldwell Family Farm in early November. Dee Dee Caldwell and her family, our longtime friends and suppliers, showed us around their farm. We toured the land, fed their happy cows, and learned about their craft and the secrets behind what, really, makes their meat so dang good. hint: happy cows raised by people who love and care for them like pets. The combination of the people involved, the way they care for their land, and the depth of their love for their herd and for their work fills us with awe and hits our hearts deep. Read more here.
---
BANTAM CIDER (October 17, 2017): Many of us at Rosemont are long-time drinkers and lovers of Bantam Cider, and in mid-October we had the distinct pleasure of busing down to Somerville to meet the women behind it all. We spent the better part of an afternoon getting to know one of the co-founders, tasting through their delicious line of ciders, and left even more infatuated with all that Bantam Cider produces and represents. Read more about their story here, and be sure to check out their tasting room if you ever find yourself in the Boston area – you'll thank us later.
---
APPLES, APPLES (October 11, 2017): In the heart of an exceptional, sun-drenched apple season, a bunch of us recently filled a van and headed west out of Portland to visit Rosemont's two main apple suppliers: Dow Farm Enterprise – who cultivate heritage varieties and sell almost exclusively to Rosemont – and Brackett's Orchards. Our crew spent the day interacting with the growers, wandering the orchards, touring the cleaning and packing facilities, and (of course) trying all the apples our stomachs could handle. Read more about our trip and our favorite apples here.