It's time to think
Our favorite food holiday is coming up, and, as usual, Rosemont will have everything you need to make the most out of this delicious day. In addition to our usual offerings and the local turkeys sourced by our butchers, our wonderful bakers and cooks will be crafting pies, breads and vegetarian entrées to fill your Thanksgiving table (and stomachs). Below you'll find all the information you'll need, but should you have any questions, give us a call and we'll be happy to talk you through any questions you may have.
What is Thanksgiving without pie (er… and friends, and family, and giving thanks, of course.)? These delicious, tried and true pies come out of the Rosemont Bakery fresh each year. They are 9″ in diameter, and feed six to eight people. They are available for pick up on Tuesday, November 20 and Wednesday, November 21.
Bourbon pecan $22.99 Made with Maker's Mark Bourbon (so fancy!)
Local apple pie $18.99
Maine Wild Blueberry Pie with Lattice Crust $18.99
Pumpkin Pie in Toasted Walnut Crust $19.99
Please place your pie order by Saturday, November 17
Every year we take care to source local birds from the suppliers we know and trust to be the best. We always offer an organic option and an all-natural, conventional option — both are available by pre-order only. Birds are assigned on a first-call-first-served basis, so hurry up and call your local Rosemont to reserve your bird today. Pick-up dates for turkeys are Tuesday, November 20 and Wednesday, November 21.
Free Range, All-Natural Birds
Maine-ly Poultry — Warren, ME
$4.69/lb
Organic Birds
Serendipity Acres — North Yarmouth, Maine
Tide Mill Farm — Edmunds, Maine
$5.99/lb
Wondering what size bird to order? Our butchers recommend planning on 1.5lbs or more per person.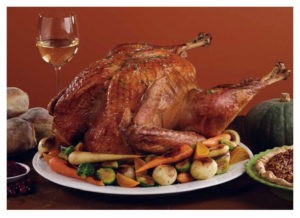 All of our breads, with the exception of cinnamon raisin, olive levain, and oatmeal molasses levain, will be available for special order for Thanksgiving. The Bread Team will also be making a specialty loaf for Thanksgiving: Dried Cranberry Toasted Walnut bread. Food for holiday thought: rolls and baguettes are always the big sellers — you can really never have too many. Though our hardworking crew of bakers always makes as much as they can, we always sell out! So, we strongly suggest you call your local Rosemont to place a special order. The deadline to special order is Tuesday, November 20.
VEGGIE-LOVERS
There's one in every family (or two or three or four), and we've got you covered with these tasty entrées sure to please the vegetarians and meat-lovers alike.
To order, please call your local Rosemont by Saturday, November 17. All entrées will be available for pick-up on Tuesday, November 20 and Wednesday, November 21.
Vegetarian Shepherd's Pie (VEGAN)  $15.99 
Organic tempeh, onion, garlic, mushrooms, peas, corn, celery, tamari, olive oil thyme, coriander, black pepper, vegetable stock, flour, parsley, potato, olive oil, salt.

Vegetable Pot Pie $14.99
Potato, Mushrooms, onion, carrot, celery, flour, tamari, thyme, sage, olive oil, our all-butter pastry, salt and pepper
Lentil Loaf $13.99 
Organic lentils, garlic, onion, carrot, celery, red pepper, oats, thyme, cumin, onion powder, salt & pepper, chipotle, ketchup, balsamic, maple syrup, eggs.

Wild Rice Stuffed Squash (VEGAN) $13.99
Squash, celery, onion, wild rice, pecans, apricots, ginger, cinnamon, cardamom, salt and pepper, olive oil.