BANTAM CIDER: SOMERVILLE, MA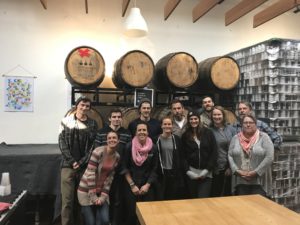 Our staff education visits to farms that produce the fruits and veggies we sell at Rosemont are always inspiring. Standing in a field where it all begins, learning from the people who put it in the ground and take it out, carries an undeniable power in connecting us to the source. Then there's a different, but no less stimulating, sort of thrill we get from visiting partners who turn great raw material into a new product — something that would not exist at all without their imagination and effort. That's the feeling we got from an incredible day-long tour at Bantam Cider in Somerville, Mass.
These are people with a terrific spirit, doing everything right, making delicious and distinctive drinks that honor any table, having a great time in their work, and always looking for how to grow and improve. We're so proud to call them our partners, and now even more gratified that we can call them friends.
Michelle da Silva and Dana Masterpolo started Bantam less than five years ago, in their apartment. They  have winemaking in their family histories, but they turned to cider as a way to bring a native New England product with long lineage into modern food and drink culture. Their unique blend of traditional processes with stylistic and recipe experimentation is what sets them apart.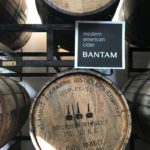 Michelle and Dana did the best kind of test marketing: a lot of blind tastings with friends. Their friends scored the nascent Bantams highly, and the company took off from there. They buy all their fruit from close-by farm partners in Massachusetts and Vermont, and treat the apples with the utmost care and cleanliness from the fruit bin to the canning line. These are refreshing and approachable ciders, but they express surprising complexity and versatility, too. Our first love was the cherry-touched Rojo (it quickly became the go-to post-work beverage for most Rosemont staff!), but now we've expanded the line of what we offer in our stores to include the crisp Wunderkind, fruit-forward Buzzwig, and spicy Ginger Beer.
Please try out these great ciders! And if you're ever in the Boston area, put a cidery tour on your calendar and make sure to tell Michelle and Dana that Rosemont sent you!