Online Ordering How-To Guide
Once you arrive in our online ordering system, follow the steps below to complete your grocery order. 
Step 1. Set your Location
The market at the top of the page (underlined below) is the location where you are currently shopping. To change the location, click "select a new home store."

You can set "Make this your home store" to be your local market. This will save your preference for future shopping. If you would like to pickup at another location, select "Shop Store." For Home Delivery orders, select "Rosemont Brighton Annex."
Step 2. Search for Items and Add them to your Cart
You can search for items by category, such as "Baked Goods." If you cannot find the item you are looking for, try using the search bar and type the item in (for example: "Pasta"). 
Once you have found the item you are looking for, click "Add to Cart" to add the item to your shopping cart. To increase the quantity of the item hit "+" and to decrease quantity hit "-"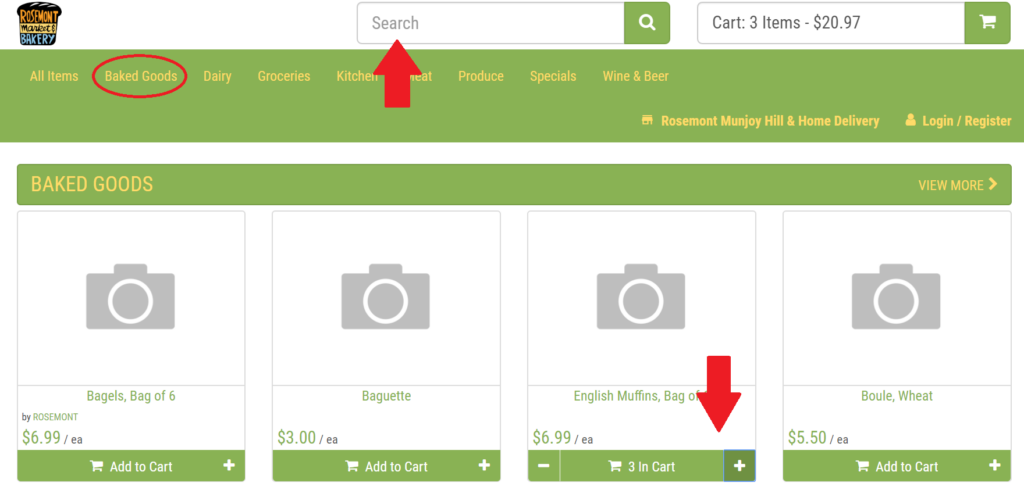 Step 3. Review your Cart
To review the items you have selected, and make any changes to your cart, hit the small shopping cart icon in the top right corner of your screen. You can change the quantity of the items in your cart by using the "+" and "-" keys. You can completely delete an item from your cart using "Remove from cart." To add additional items, click "continue shopping." 
When you are happy with your shopping cart selections, click the orange "order now" button to begin the checkout process.

Step 4. Checkout
 Once in the checkout screen, begin by entering your name and address in the contact field. You will then move down to choose your receiving method. Your curbside pick up location will be the market where you selected to shop at the beginning of this process. The "Home Delivery" option will only appear if you selected "Home Delivery" as your shopping location. 
Once you select your receiving method, choose the date and time you would like for pickup or delivery. 
Once complete, continue to move onto the next field.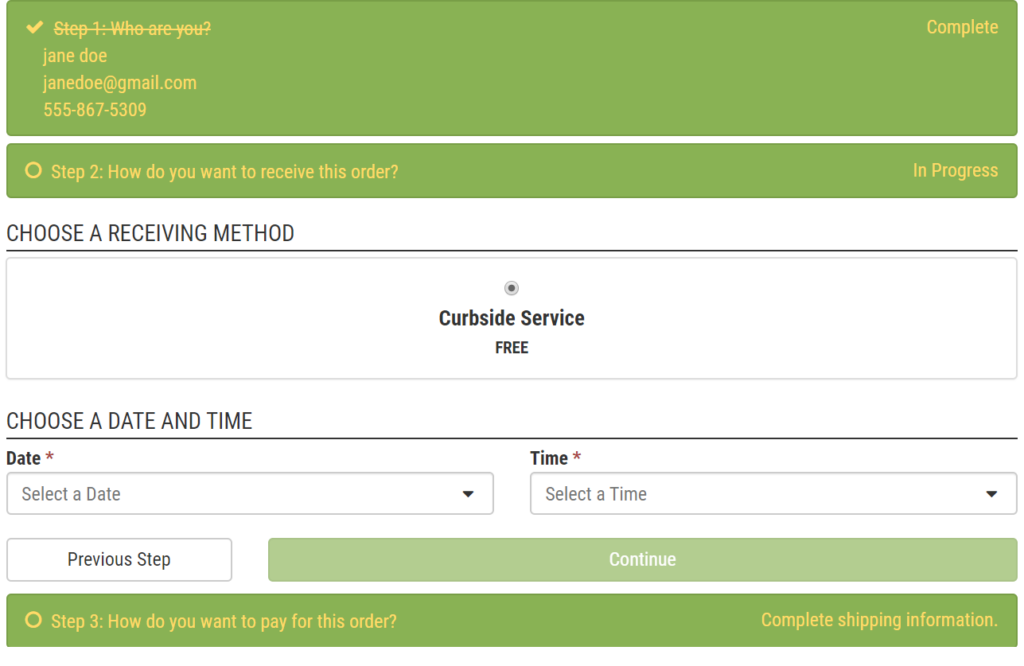 Step 5. Payment
Their is only one option for payment at this time, and that is Rosemont Market will call you to process payment. Select this to continue on to confirm your order.

Step 6. Place your Order
To submit your order, hit "Confirm Order"

Your order has now been submitted. You will receive a confirmation email with the details of your order. You do not need to do anything else at this time. Rosemont will call you to process payment. Thank you for shopping local!