Wine Happy Hour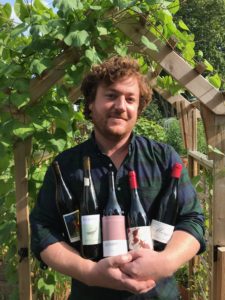 We've extended our Happy Hour for the holidays!
Enjoy 10% off all wine all week from 12/26-12/31.
Looking for something different? Searching for that bottle you tried on vacation last year? Your favorite glass from your go-to restaurant you've been missing? Not sure what you're after, but need some new ideas? Email our Wine Director, Joe Watson, and he will do his best to source your most sought-after bottles and keep your glasses full. 
Holiday Reds
Camigliano Rosso di Montalcino
We love this vineyard farmed by the entire village of Camigliano (all 32 of them). And we love the price point for this rosso made of 100% sangiovese with a significant amount of the prestigious Brunello clone of the grape. This is a food wine through and through and sure to make any table laden with your favorite Italian dishes even cozier on these chilly evenings. Though we don't always have access to wild boar around here, it will certainly be a delight to accompany your favorite boldly seasoned local pork.
Tramin T Cuvee Rosso – Rosemont Exclusive in Entire Country – This wine is just plain fun! Let it open up for 20-30 minutes to enjoy the red sibling of our T Cuvee Bianco. Give it a little chill and really see the indigenous Schiava grape show off it's light and appetizing cranberry and just-ripe strawberry flavors only to finish with the cherried structured goodness of its touch of pinot nero (pinot noir) and merlot. Another lovely table red from the Italian Alps.
Maison Chanzy Rouge
Made for and by Burgundy enthusiasts who purchased the property of Daniel Chanzy in 2013 to bring value driven wines back to the banks of the Saone as it winds it's way through the region. A rich pinot noir full of black cherries, earth, and spices that is as versatile as it gets for winter reds. And, at this price point, could certainly make your boeuf bourguignon a (small) crowd pleaser with a bottle or two added.
Bagordi – Cosecha, Crianza, and Reserva Rioja
The winemakers at Bagordi seem to get it right at every level of production. From their young cosecha to the well-aged Riserva, they are able to pull the best of the terroir around the River Oja region of Spain, more commonly seen as a portmanteau, Rioja. Their middle-tier Crianza has been a Rosemont favorite for years. We clamor for it's dusty, ripe red-fruit power every new vintage and often find ourselves empty handed by the end of the year due to it's popularity. A blend of tempranillo and Graciano, this ageable wine can sit in your cellar to mellow or be enjoyed just as the vintages get released. A fabulous value-driven companion for cured or grilled meats, and maybe a little side of manchego.
Domaine Les Hautes Noelles Gamay
Another Rosemont favorite from the Loire Valley of France. Domaine Hautes Noelles gamay always seems to find it's way onto the shelves this time of year. Certified organic, light bodied and popping with red berries and black cherries, this is a great wine to enjoy on it's own or with charcuterie platters, roasted winter squashes, or throw a little chill on the bottle and enjoy next to a char grilled fish.
Essay Syrah
South Africa goes through it's ups and downs it seems in the wine world and COVID made that even more evident as the government there shut down all wine production for months on end. As a result, one of our staples from the edge of Africa missed the summer season and just recently arrived back to our shelves and it seems to have been worth the wait! It's the child of Rhone and Provencale varietals – syrah (shiraz), cinsault, mourvedre, and grenache – and they all add their own nature to this medium-bodied red. Deep dark fruit of Syrah tempered by the floral notes of grenache, red fruit of the cinsault, and an earthy bold complexity of the mourvedre. A lovely wine to set beside grilled steaks of beef or lamb.
Jaffelin Pinot Noir
This wine just keeps on hitting vintage after vintage. Loire Valley and Pays d'Oc fruit in the hands of young Burgundian winemakers keep prices low and quality high. A lovely table wine highlighting all the tasting notes synonymous with French pinot noir – earthy black cherry and cranberry and a touch of spice with soft tannins. A staple throughout the year but really hitting it's stride in these cooler months.
Daniel Chotard Sancerre Rouge
Maybe we love the lesser known grapes from regions synonymous with a certain style but the reds of Sancerre are noteworthy nonetheless. Sancerre, more known for it's flinty, mineral driven white sauvignon blancs, creates some of the most drinkable pinot noir in France. Seldom seen outside of France – pinot noir in Sancerre accounts for only 10% of production and half of that goes into delicious rose – the pinot has a distinct earthiness but an edge of minerality rarely seen in the grape. In France, it is a favorite bistro wine for all your classically earthy, rich, paysanne meals. In the U.S., it's a rare treat that we love being able to share
Holiday Whites
Tramin T Cuvee Bianco – Rosemont Exclusive in Entire Country – We directly imported this from the Italian Dolomite mountains just in time for the holidays to be our staple table white. Versatile and delicious, T Cuvee comes from a co-op in the Alto Adige region of Italy. A blend of sauvignon blanc, pinot bianco, riesling, and chardonnay, it really is the white that has something for everyone from bright citrus, to mountain flowers, finishing with an enticingly elegant length.
Vie di Romans Chardonnay:
Let's face it, this are a splurge for most of us. But, if you're going to splurge, I can't think of a better place to look than Vie di Romans Chardonnay. The chardonnay is crisp, well balanced, and the mineral backbone completes the comparison to white Burgundies at higher price points. Delicious on it's own or next to a roasted bird smothered in herbs and bronzed vegetables.
Domaine des Cassagnoles Reserve
For the price, it's hard to find a more versatile, and well-made French white. 100% gros manseng from it's indigenous home in Gascogne has the acidity of sauvignon blanc but a full body reminiscent of chardonnay from Burgundy. Pair with simply prepared fish and shellfish, roasted chickens, sautéed vegetables, quiche, white bean stew, and on and on and on…
Essay Chenin Blanc
Whereas the Essay Syrah is the child of Rhone and Provence, then the Essay Chenin finds it's parentage in the Loire and Rhone valleys. A blend led by South Africa's classic white varietal, chenin blanc, and the added complexity of viognier and Roussanne. Fresh and filled with flavors of tropical fruits, pears, and melons, it's a excellent option for an aperitif or to set beside your thai curries, sushi, and brightly dressed salads.
Jaffelin Chardonnay
We can't talk Jaffelin pinot noir without mentioning it's companion on the pallets from France, chardonnay. Unoaked, bright, crisp, and delicious, Jaffelin uses grapes from the Languedoc and Loire to bring a versatile wine to the table and that's why it's been a staple since we first discovered it last fall. Enjoy on it's own with a spread of creamy runny cheeses, or make it that table wine to accompany all your favorite winter seared fishes, grilled lobsters, roasted vegetable, and creamy potato gratins.
Holiday Rosé
Leone de Castris Rosato
It may be getting cold but that's no reason to put away the rose! Italian rosatos are perfect food wines for fall and winter dishes, especially when paired alongside shellfish, pastas, and cheese plates. Leone de Castris was the first winery in Italy to send their rose to the U.S. after World War II and it's been here ever since. This negroamaro has a floral nose and a zesty, citrusy, appetizing pallet. For those vegetarians out there, here's a little note from one of our wine club members, Malcolm: "I'm finding that the de Castris works just fine for a number of late autumn dishes for vegetarians like us.  Tonight, squash and black bean enchiladas with a bit of Poblano, other nights, roasted veg with polenta. The balance of acidity and a bit of light fruit is perfect for these dishes, where there's a lot of sweet vegetable flavors."
Castello di Bossi Toscana Rosato
This was a real last-minute addition to our rose supplies – we only tasted it for the first time in November – but it's sure to be a winter favorite on the shelves. 70% sangiovese and 30% cabernet sauvignon, this versatile rosato may look provencale but is full of what we love from Italian rosato – particularly sangiovese blends. It is like eating a handful of tart cherries as you walk down a dusty Tuscan path surrounded by Mediterranean herbs. What a lovely companion to a meal of grilled fish, or the freshness of eggplant caponata, or just besides a spread of hard Italian cheeses.
Holiday Sparkling
Victorine Cremant de Bourgogne
A little known fact is that almost every appellation of Burgundy's Cote d'Or grows a small percentage of grapes to go into their sparkling Cremant de Bourgogne. From the most expensive grand crus to the village level vineyards, everyone is growing a little stash of pinot noir, gamay, aligoté, and/or chardonnay to go into this bubbly delight. Done in champenoise style, the Victorine is fresh, dry, and fruity with an elegant bubble and a great alternative to more expensive styles from Champagne. Treat as you would Champagne when it comes to pairings and enjoy for a celebratory toast or alongside the bracing salinity of some Damariscotta oysters.
Champagne, Champagne, Champagne!
Our yearly stash of Champagne has arrived and there are some old favorites and new faces hitting our shelves in December. There are even a few surprises in the mix – still Champagne to be exact. What used to be a highly sought after bottling of pinot noir and chardonnay, still Champagne has taken a backseat to its more celebratory bubbly sibling. A fun and limited new way to enjoy the classic grapes of northern France. Here is the list of what to expect at your local Rosemont this holiday season while supplies last:
Coteaux Champenoise Tailles de Pinot (Still)
Coteaux Champenoise La Voie de Chanay (Still)
Jose Michel Brut Pinot Meunier
Jose Michel Special Club Brut 2013
Perseval Farge Cuvee de Pinots Brut
Perseval Farge La Pucelle Brut Nature
Bourdaire Gallois Blanc de Blancs
Thierry Triolet Brut Rose
R Dumont Brut NV 375mL
R Dumont Brut NV 750mL
R Dumont Brut NV 1.5L
R Dumont Brut NV 3L
R Dumont Brut NV 6L
R Dumont Brut Vintage 2010
R Dumont Brut NV Rose
In Our Cellar
The past few months have provided us with the opportunity to reorganize and expand our wine cellar offerings. We are currently in the process of creating a whole new wine center at our Cape Elizabeth market. With a walk-in wine storage cooler installed, we will be able to safely lay down some of those special bottles we find for you to enjoy for years to come. In the future, our hope is to make this a perfect place for wine classes, tastings, and other special events when it becomes safe to do so.
View our current cellar inventory list here. Interested in ordering something from the list? Email Joe and he will arrange your order for pickup at your local market.