The Rosemont Mural Project was conceptualized with the intention of energizing Portland youth to contribute in a meaningful way to their community while cultivating an awareness of the rich agrarian resources of our region.
Rosemont Market & Bakery's current collaboration with students and faculty at the Rowe Elementary School began in the Fall of 2021. The seven 4' x 4' murals currently hanging on Rosemont's Brighton Ave. market are the latest in a series of 5 mural projects over 7 years. More than 440 students came together throughout the 2021/2022 school year to create paintings inspired by a closed loop food system, expressing a visual representation of the words:  EAT › COMPOST › PLANT › GROW › PICK › SHOP › COOK. This year's theme was informed by Rosemont's mission of eliminating food waste through community composting in partnership with local organization, Garbage to Garden.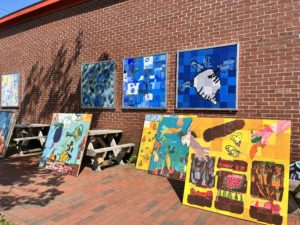 Rowe students, along with other artist helpers at school, replicated their original drawings on 448 wood tiles to create the seven murals. Teachers have described this process, from brainstorming ideas, to critiques about composition, to enlarging and creating a mural, as a memorable educational experience for these young and dedicated artists.
"The Rowe community is incredibly proud of the murals our students made this year. It took a team effort to get it done and we are so happy with the finished artwork." -Simon Williams, Teacher at Rowe Elementary School
Rosemont Market & Bakery wishes to thank these individuals for their work on this project: Rowe Elementary School Kindergarten through Fifth Graders Teachers: Jonathan Graffius, Jess Puzak, Jean Rank, Simon Williams & Craig Forrest
Launched in 2005 with a mission to cultivate meaningful relationships between Maine's farmers and their communities, Rosemont Market & Bakery remains steadfast in their commitment to finding and supporting the best local and regional producers. At Rosemont's eight neighborhood markets, located throughout Greater Portland, over 60% of the goods sold at are grown or produced in Maine, exemplifying their intention of providing loyal customers with Good Food from People You Know.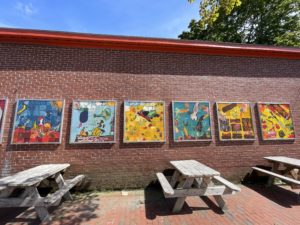 "In line with this year's Mural Project theme of closed loop farming, Rosemont Markets have always been committed to repurposing or composting any produce that is beyond ideal ripeness or any out-of-date food products, by donating it to our charitable giving partners or composting it through Garbage to Garden. Our public art projects create a way for local children to engage with their own creativity and with their community, while learning about the bounty of foods grown right here in Maine." – John Naylor, Co-Owner, Rosemont Market & Bakery