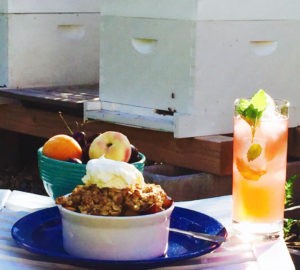 Serves 4
For the Crisp Topping
3/4 cup all purpose flour
1/4 cup rolled oats
1/3 cup chopped walnuts
3 Tbs brown sugar
1/8 tsp cinnamon
1 stick unsalted butter, melted
Mix all together.
For the Crisp Filling
6 cups assorted stone fruits, pitted and chopped (peaches, cherries, plums, nectarines, apricots…chose your favorites!)
1 Tbs cornstarch
2 Tbs brown sugar
1 Tbs honey
Pinch of salt
1/2 tsp cinnamon
1/8 tsp vanilla extract
1/8 tsp almond extract
Zest of one lemon
Combine all filling ingredients. Mix well. Divide into 4 servings (6-8 ounce serving dishes) or one large dish (9" x 9"). Sprinkle on the crisp topping. Bake at 350 degrees for 35-45 minutes. When you see a delicious gooey syrup bubbling out and the topping is nicely browned you're done! Allow to cool about 10 minutes and top with ice cream or whipped cream.
For the Rhubarb-Tea Cooler
3 cups chopped rhubarb
4 cups water
¼ cup honey
3 Tbs Little Red Tea Cup Black Tea
Juice of one lemon (zest the lemon first and reserve the zest for the crisp)
Mint
Ice
Combine rhubarb, tea, honey and water in a pot and simmer over medium heat for about 20-25 minutes, or until rhubarb is tender and the liquid has turned a nice ruby pink. Strain and refrigerate. Once cool, stir in the lemon juice. To serve, pick some fresh mint leaves and add to glasses filled with ice.
Pour the Rhubarb-Tea over ice and stir.