From the people who love good food, our Fresh Picks is a sampling of the many items we are excited to share with our community right now.
Late Spring 2022
Local Produce
At Rosemont, late spring brings about a new wave of excitement as we begin to see some of our favorite produce items fill our shelves. From Hakurei turnips to local spring asparagus, corn on the cob to local rhubarb – summer salad and grilling season here we come!
This Month's Environmentally-focused Fresh Picks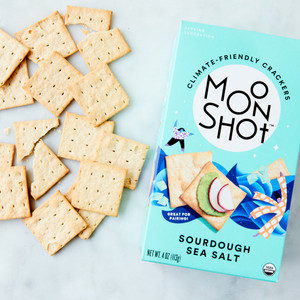 Moonshot, a California based cracker company is proudly carbon neutral, made with 100% organic ingredients that are grown mere miles from their processing facility and they use completely recycled (and soon to be completely compostable) packaging. Moonshot has also focused their work to support topsoil creation by using regenerative agricultural practices when growing the wheat for their crackers.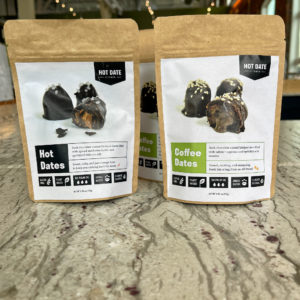 Coming from closer to home in Sommerville, Massachusetts, Hot Dates are a certified carbon neutral company and made with organic ingredients. Their ingredient choice is so specific – they only work with date growers who are conscientious of water usage and environmental impact in the growing process.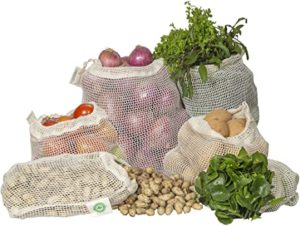 Looking for a super easy way to make your grocery shopping more eco-friendly? You've already mastered the reusable shopping bag, so how about the reusable mesh produce bags? Keep them in the bottom of your canvas tote, and every time you shop use them to pack up your loose produce. Pickup a 3-pack from any of our local markets.  
While we normally share all the yummy food, we're most excited about, we could hardly wait for Earth month to re-introduce this plant-based, plastic-free laundry soap that is tough on stains and easy on sensitive skin.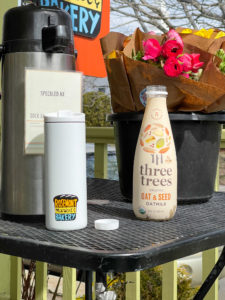 One of our favorite branded products is our @miir thermal mugs. They keep your beverage hot or cold for hours and currently 50% of the proceeds go to Cultivating Community. "Cultivating Community grows sustainable communities by expanding access to healthy, local food; empowering children, youth, and adults to play diverse roles in restoring the local, sustainable food systems; and modeling, teaching, and advocating for ecological food production."  
We have a very limited stock, so pick one up while you still can. You can drink your favorite coffee, support a local organization, and help save the planet all at once!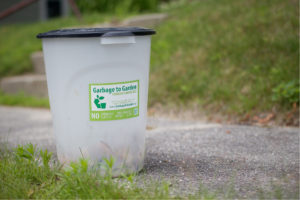 Founded in 2012 and based in Portland, Maine, Garbage to Garden is the beloved curbside compost service that offers urban dwellers, schools, and commercial businesses a convenient way to recycle food scraps (including meat, dairy, and bones!) to be used to renew our local soil. 
It's as easy as chucking your food waste in the bucket, and placing your bucket on the curb for weekly pickup. We sell Garbage to Garden buckets at our local markets.  
EARTH MONTH GIVEAWAY!
EARTH MONTH GIVEAWAY! We joined together with some of our favorite environmentally-focused industry partners to compile a fabulous giveaway to one very lucky Rosemont customer in honor of Earth Month. Enter to win:
Moonshot Crackers
Hot Dates
Rosemont Branded Miir Mug
EcoNext Reusable Laundry Sheets
RMB Wine Bar Tee made from recycled bottles
Reusable RMB Tote
Garbage 2 Garden 3-Month Service Subscription
Gogo Refill Products & Gift Card
& more!
How to Enter:
Step 1. Make a donation of any amount to the MOFGA & Maine Farmland Trust PFAS Emergency Relief Fund 
*IMPORTANT* you must write "ROSEMONT" in the "additional comments" section of the PFAS donation page to be OFFICIALLY entered into the giveaway.
Step 2. Like and comment on our Instagram or Facebook posts to show your support!
From all of us at Rosemont, thank YOU for supporting local, environmentally conscious brands and Maine's farmers.
Celebrate What's In Season
At Rosemont, we believe people should eat and celebrate good food, in season, from where they live. Many of our products are made and sourced in small batches and with seasonal ingredients. Therefore, some of these items may come and go from inventory over the coming days and weeks. Check back often for updates on the fresh picks we are most excited to share with you.