Wanting to add fresh fish into your weekly dinner schedule? Try this simple Haddock Piccata recipe. So delicious and fresh, it'll easily knock the socks off anyone you make it for. Harbor Fish Recipe circa 1980.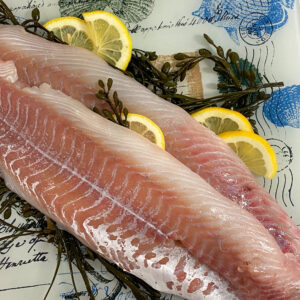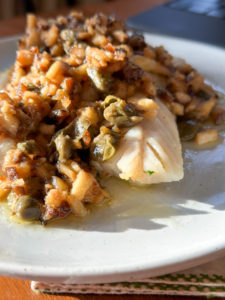 2 lbs haddock, can use other white fish
1 large lemon
1/2 stick butter
1/2 cup olive oil
flour to coat fish
12 ounces mushrooms, sliced, optional
2 cloves garlic
salt and pepper to taste
2 tbsp dried parsley
1 cup fish or chicken stock
*Rosemont also added half a jar of capers
In a large frying pan, slowly melt butter and oil together. Add mushrooms, garlic cloves, 1/2 cup of the stock, and gently simmer.
While this is cooking, cut fish fillet into serving size pieces, rinse and pat semi dry. Roll in flour seasoned with salt, pepper and parsley.
When mushrooms are cooked, remove and reserve. When garlic's soft, mash with a fork; leave in pan.
Place floured pieces into pan and sauce, turning over once. As the fish is cooking squeeze half the juice of lemon over it.
When fish is cooked, place on warm serving dish.
Bring pan juices to high heat, return mushrooms to pan, add the rest of the stock and the of remaining lemon juice*.
Keep on high heat and stir constantly until mixture becomes steamy. Then pour over fish and serve.