As the end of mango season approaches, we've been enhancing the summer flavors of grilled halibut steaks with a vibrant mango salsa. Regardless of the weather, grilling fish, especially with such a tropical accompaniment, is an utterly delicious experience.
Try our recipe for Grilled North Atlantic Halibut Steaks with Mango Salsa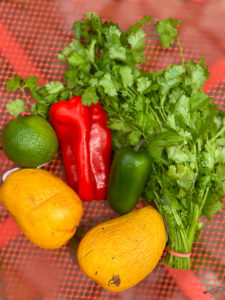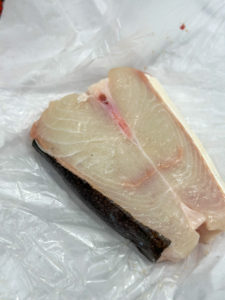 Ingredients:
Halibut steaks (1 per person)

1 mango, diced
1 red pepper, finely chopped
1 jalapeno, minced
1 tbsp. freshly chopped cilantro
Juice of 1 lime
Kosher salt
Olive Oil
Freshly ground black pepper
Method:
Preheat grill to medium-high and brush halibut with oil on both sides then season with salt and pepper.
Grill halibut until cooked through, about 5 minutes per side.
Make salsa: Mix together all ingredients in a medium bowl and season with salt and pepper. Serve salsa over halibut.
We're eating this meal with the perfect wine pairing: Toucas Vinho Verde. The grapes used to make this wine were grown along the Portugese ocean and seafood makes the perfect pairing. With a zippy, acidic finish, this wine pairs perfectly with the spicy mango salsa.