During the chilly season in Maine, there's nothing we love more than to curl up with comfort food on a snowy day. Maine Chef Josh Berry of Plate the State is our trusted source for tasty recipes made with quality, local ingredients. For this Rosemont Recipe, Chef shares with us his take on a classic preparation of Croque Monsieur. 
Enjoy the beautiful snowy season!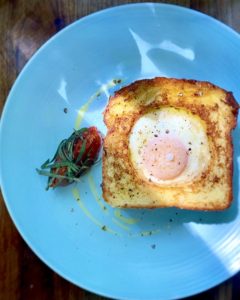 Yield: 2 sandwiches 
Ingredients:
4 slices of bread – We recommend our Sandwich Loaf! 

2 tablespoons of whole grain mustard 

6 ounces of ham, sliced thin

4 slices of cheddar cheese

2  eggs

¼ cup of milk

1 pinch of nutmeg 

season salt and pepper 

olive oil, as needed

2 tablespoons of butter
Method:
Preheat oven to 350F 

Lay the bread slices on a cutting board and spread the mustard evenly over the 4 slices. 

Next lay one slice of cheese atop each slice of bread.

Top two slices of bread with the ham and top with the other slice of bread to make a "ham and cheese sandwich".

Heat a large skillet over medium high heat. 

Beat the egg and milk together and season with the nutmeg, salt and pepper. 

Dip the ham and cheese sandwich into the egg and milk mixture until the bread is saturated. 

Add a few tablespoons of olive oil into the skillet and add the sandwiches one at a time so as to not crowd the pan. 

Cook for 3 to 4 min per side until the bread is golden brown. 

Once browned on each side place the sandwiches on a cookie sheet pan and top each sandwich with a tablespoon of the butter. Bake in the oven for 10 to 12 minutes until they are hot through and the cheese is melted. 

Serve with maple syrup, currant jelly, tomato jam or more mustard.

Enjoy!