Maine blueberry season is in full swing! To take advantage of everything this time of year has to offer, our talented head pastry baker, Gabi, has put together a Maine Wild Blueberry Crisp recipe for us to share.
Maine Wild Blueberry Crisp
Crust: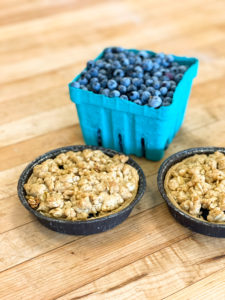 2 ¼ Cup Flour
1 Teaspoon Salt
1 Tablespoon Sugar
2 Sticks Kate's Unsalted Butter (Cold)
½ Cup Kate's Buttermilk (Cold)
Filling:
4 Cup Maine Wild Blueberries
½ Cup Sugar
2 Tablespoon Cornstarch
¼ Teaspoon Salt
1 Tablespoon Lemon Zest
Streusel:
½ Cup Flour
1/3 Cup Oats
1/3 Cup Brown Sugar
¼ Cup Melted Butter
½ Teaspoon Cinnamon
For the Crust:
In a bowl or stand mixer, beat together flour, salt, and sugar on speed 1. Cube Kate's butter and add to flour mix. Mix flour and butter on speed 1 until butter is pebble size. Stream in Kate's buttermilk and mix until dough is one cohesive mass. There should be no residual flour. Let rest while you prepare your filling and streusel.
For the Filling:
On the stove top, bring Maine wild blueberries to a boil with lemon zest. In a separate bowl mix together sugar, corn starch, and salt. Add to boiling blueberries. Stir continuously until mixture thickens. Mixture will become gelatinous. Set aside and let cool on counter.
For the Streusel:
Add flour, oats, brown sugar, and cinnamon into a bowl and mix with hands. Stream in melted butter, mix again until butter has dissolved. Set aside.
Assembling:
Divide dough into two balls. Freeze one of the dough balls for future use.
On floured surface, roll dough to about a ¼ inch thickness. Place into 9" pie tin.
Crimp the excess dough that hangs off the edges of the pie tin.
Add the blueberry filling into pie tin.
Top with prepared streusel.
Bake at 350° for 30 minutes or until pie dough is golden brown.
Let cool. Serve with your favorite ice cream or whipped cream.