At Thanksgiving we encourage you to take it slow, embrace the process, revel in the ingredients, the smells, the tastes, and the deep connection to knowing where your food came from.  Be well, give thanks, and from all of us at Rosemont, Happy Thanksgiving.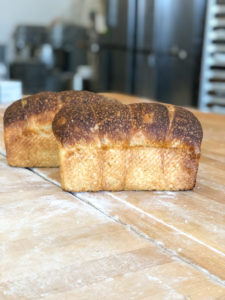 Classic Stuffing 
Ingredients:
1 loaf bread (sandwich bread or boule)  – cut in ½" cubes
1 package of Colvard & Co. Maple Sage Sausage – optional
1 bunch celery- diced
2 medium yellow onions- diced
¼ cup fresh parsley- diced
¼ cup  fresh thyme- diced
¼ cup fresh sage- diced
1.5 sticks of butter
2 eggs- beaten
4 cups chicken stock
1 tbsp salt
1/2 tbsp black pepper 
 Preparation 
Dry bread cubes: preheat oven to 250 degrees. Spread bread cubes out evenly onto rimmed baking sheets.

 

Bake in a preheated oven, tossing bread 3 times and rotating pans throughout baking, until bread cubes are almost fully dried through, about 45 – 60 minutes. Set aside to cool. Increase oven temperature to 375 degrees.

 

Mix liquids: in a liquid measuring cup whisk together 2 1/2 cups chicken broth with eggs until well blended. Set aside.

 

Melt butter in a skillet over medium heat. Add celery, onion, salt and pepper. 

Sauté

 until tender, about 10 minutes.

 

Remove vegetables and add in sausage (note: if your sausage is in a casing, this is when you should remove that casing). Cook sausage until brown and remove with slotted spoon so that the excess grease doesn't get mixed into the stuffing.

Mix stuffing ingredients: Place dried bread cubes in an extra-large mixing bowl. Add in parsley, sage and thyme. Pour in sautéed vegetable mixture, maple sage sausage and drizzle over chicken broth mixture then immediately toss.

 

Moisten as needed: Slowly pour in more chicken broth while tossing until bread is just barely soaked through.

 

Bake: Pour mixture into a buttered baking dish. Spread into an even layer. Cover with foil and bake in a 375 degree oven for 30 minutes. Remove foil and continue to bake until cooked through, about 15–25 minutes longer.

 
Enjoy!