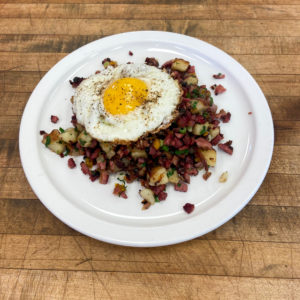 Looking for something to do with your leftover corned beef from St. Patrick's Day? Our Kitchen Manager, Cece, has pulled together this delicious recipe to enjoy the morning after.
Ingredients:
2 or 3 tablespoons unsalted butter

 

1 medium onion, finely chopped (about 1 cup)

 

2 to 3 cups cooked corned beef, finely chopped

2 to 3 cups chopped cooked potatoes, preferably Yukon gold

 

1 medium bell pepper, diced

 

2

scallions, thinly sliced

 

Salt and pepper

 

Parsley for garnish

 
Directions:
Heat butter in a large skillet (cast iron is best, but any pan will work) on medium heat. Add the onion

 and bell pepper

and cook a few minutes, until the onions are translucent.

 

Add a pinch of salt and pepper to taste.

Mix in the potatoes and corned beef.

 

Increase the heat

 to

 medium high and press down on the mixture with a spatula.

 

Try not to 

stir

often to

 let 

everything

 brown. 

If there is too much sticking, you can add a little more butter to the pan.

Continue to cook until the potatoes and the corned beef are nicely browned, about

15 – 20 mins.

 

Remove from 

heat 

and

 add scallion and parsley garnish.

 

Serve with fried or poached eggs for breakfast.

 
Enjoy!