We've all said it, 2020 has been TOUGH. We have been forced to adapt, become braver, more resilient and even more patient. We've given up vacations, concerts, celebrations and most importantly, time with our extended family and friends. We've gotten used to wearing masks, sanitizing and quarantining, but as the holidays approach, we are feeling the shift more than ever. As individuals we've made our own varying degrees of peace with what our gatherings will look like this year, and as a business we are doing our best to inspire our customers to find joy in these circumstances. This holiday we are embracing safe and intimate gatherings of family and close friends. And in doing so, celebrating the opportunity to use quality, local ingredients in place of large quantity alternatives. 
First, the birds. As always, we are supplying our customers with the best from Mainely Poultry in Warren and Tide Mill in Edmunds, ME, but this year we have reevaluated the size. We know tables will likely be smaller, so how do we keep birds from getting too big and your fridges from being too full? Conversations began this summer, and our farmers have decided to take their birds off the ground a few weeks early this year. This means they will be 10-25 pounds, compared to the usual 15-30 pounds. We are also offering large roasting chickens this year – also from Mainely Poultry, and the perfect main course for intimate family gatherings.  
Another change you'll notice is our stuffing bread. In normal years, we've had precut dried squares of our Scala bread for customers to use for their stuffing's at home. This year, since we are all going to be spending more time at home, we are encouraging customers to take on the process of cutting and drying the bread. Our head chef Cecelia has created an easy recipe to follow. See below for instructions and enjoy the process.   
When it comes to our kitchen, bakery and produce department, not so much has changed. We are still creating delicious side salads and the perfect accompanying rolls for your Thanksgiving meal. Our produce shelves will be stocked with potatoes, squash, brussels sprouts and cranberries and our wine shelves overflowing with drinkable bottles to toast to a healthier year ahead.  
To further embrace the safe gathering, we are encouraging pre-ordering your feast online and having your groceries delivered to your home. We've created a platform for pre-ordering all your Thanksgiving items, and we are offering FREE home delivery Saturday – Wednesday before the holiday. For more information, please visit our Thanksgiving preorder page.  
This Thanksgiving we encourage you to take it slow, embrace the process, revel in the ingredients, the smells, the tastes, and the deep connection to knowing where your food came from.  Be well, give thanks, and from all of us at Rosemont, Happy Thanksgiving.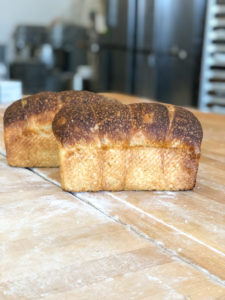 Classic Stuffing 
Ingredients:
1 loaf bread (sandwich bread or boule)  – cut in ½" cubes
1 bunch celery- diced
2 medium yellow onions- diced
¼ cup fresh parsley- diced
¼ cup  fresh thyme- diced
¼ cup fresh sage- diced
1.5 sticks of butter
2 eggs- beaten
4 cups chicken stock
1 tbsp salt
1/2 tbsp black pepper 
 Preparation 
Dry bread cubes: preheat oven to 250 degrees. Spread bread cubes out evenly onto rimmed baking sheets.

 

Bake in a preheated oven, tossing bread 3 times and rotating pans throughout baking, until bread cubes are almost fully dried through, about 45 – 60 minutes. Set aside to cool. Increase oven temperature to 375 degrees.

 

Mix liquids: in a liquid measuring cup whisk together 2 1/2 cups chicken broth with eggs until well blended. Set aside.

 

Melt butter in a skillet over medium heat. Add celery, onion, salt and pepper. 

Sauté

 until tender, about 10 minutes.

 

Mix stuffing ingredients: Place dried bread cubes in an extra-large mixing bowl. Add in parsley, sage and thyme. Pour in sautéed vegetable mixture and drizzle over chicken broth mixture then immediately toss.

 

Moisten as needed: Slowly pour in more chicken broth while tossing until bread is just barely soaked through.

 

Bake: Pour mixture into a buttered baking dish. Spread into an even layer. Cover with foil and bake in a 375 degree oven for 30 minutes. Remove foil and continue to bake until cooked through, about 15–25 minutes longer.

 
Enjoy!