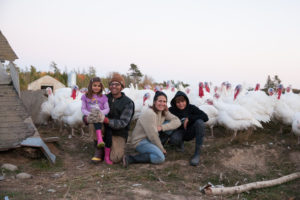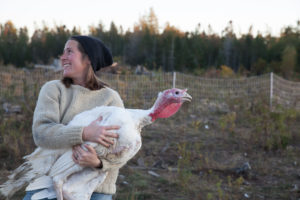 At around six weeks of age, baby turkeys are welcomed to Tide Mill Organic Farm. The turkeys are raised in lush fields, where they are free to roam and graze on fresh green grass and organic grains. The farm's environment offers them an abundance of fresh air and the region's characteristically varied coastal climate.
The farm is operated by the dedicated husband-and-wife team, Aaron Bell and Carly DelSignore. They are committed to a mission that extends beyond mere farming; their goal is to provide nourishing food while advocating for healthy lifestyles and sustainable land management. Through their diligent work, they aim to contribute to and improve the agricultural economy of Washington County, Maine, and beyond, ensuring a richer, more sustainable food system for future generations.
When it comes time for processing, the turkeys don't leave the farm, thereby avoiding the stressful ordeal of transportation. This not only constitutes a more humane treatment but also ensures that the resulting meat is low in stress hormones. This makes for a turkey product that is consistently tender and delicious.
The turkey from Tide Mill Organic Farm is not just flavorful; it also boasts a healthy nutritional profile. The meat is low in calories, fat, and cholesterol, yet high in protein and rich in savory flavor.
Find Tide Mill Organic Chickens in our markets year round and preorder their organic Turkey for Thanksgiving.