We haven't talked about wine for a while, and for that we apologize. Today we kick off a reincarnation of our Rosemont Wine Club newsletter: alive, kicking, consistent, frequent, informative, useful. We'll alert you to exciting new wines at Rosemont, offer exclusive deals and packages, provide an overview of upcoming vinous events, and just generally be your all-purpose, no-one-else-needed maxi-guide to the best wine drinking in Maine. Our primary principle throughout will be to help you drink better at lower prices than would otherwise be possible. We do hope you'll let us know how we're doing, and if you're not a member of our Wine Club, this is a great time to sign on. Membership is free and the deals are abundant.
ISLAND TIME: SARDINIA
Up first, here's a formal introduction to the distinctive wines of Argiolas, the most prominent winery on the Mediterranean island of Sardinia. Among a long list of other enticements, Sardinia is known for its fascinating indigenous wine grapes and the way that non-native grapes take on an utterly distinctive character and transmit the island's unique composites of climate and soil.
We're excited to offer a lovely little four-pack at a special Rosemont Wine Club price that shows off these beautiful wines. Two of the wines are perfect everyday-ers, though they've got enough pull and intrigue to gussy up an artfully composed meal as well. The other two are more luscious and long, the sort of mid-priced wines offering disproportionately outsized complexity and beauty that we at Rosemont get most excited about selling.
Ordinarily, if you bought one of each of these four bottles separately, you'd pay $65. As a beloved RWC member, you'll pay just $50. It's an end-of-summer deal that we guess will whet your appetite for more food-intense feasts and celebrations in coming months. Buy a four-pack now and spend the next couple of weeks playing with them at your table. If you like what you taste, get back to us by September 22 and order a few more. These are the kinds of wines you just want to have on hand for whatever life brings.
Wine descriptions are below. Email wineclub@rosemontmarket.com with your order: specify how many four-packs, and at which Rosemont store you'd like to pick up. We will email you when your wine is ready to pick up. Thanks!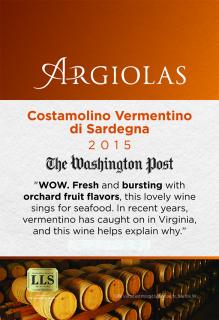 Argiolas Costamolino 2015
This is all about the rich, luscious fruit, from 100% Vermentino grapes harvested later than anywhere else on the island. A lot of folks guess that the wine sees some time in oak, but it's stainless-steel only. The creamy character of the wine comes from a portion undergoing malolactic fermentation (a process that often fools people into mistakenly sensing oak influence). This is a Big Tent wine, sure to bring together Chardonnay lovers and Pinot Grigio aficionados (not to mention Vermentino fans) in everlasting harmony.

Argiolas Perdera 2013
This balanced, honed, taut red is exactly what we all want right now: an all-stainless-steel-fermented, refreshing, clean-flavored red wine ideal for dining outdoors and/or simply. Made from mostly Monica grapes, indigenous to the island, it presents fruit in the cool blueberry realm, with a touch of dust and pronounced crisp minerality. The medium-bodied Perdera seems to go with all sorts of meals, even lobster, and is best served after 20-30 minutes of fridge time.
IS Argiolas 2014
This is Argiolas' grand expression of Vermentino, as distinct from the charming workhorse Costamolino as Meursault is from a Bourgogne (but a helluva lot cheaper than decent Meursault). Argiolas hand-harvests the ripest grapes from its oldest Vermentino vines and ages the wine for 6-8 months on its lees, yielding an impressively sumptuous, elegant wine despite – again – the lack of oak treatment. There is even more vibrant acidity in this broad-shouldered white than in the Costamolino, a feat of magic that has yet to be made clear to us by any vinification facts. The aromas are intensely floral; we wouldn't blame you if it took an hour of smelling before you were ready to take your first sip. Tangy citrus fruit flavors follow, along with exotic spice through a super long finish. Drink it with scallops or grilled pork chops, or a cream-based pasta, medium-soft cheeses, or – our favorite pairing so far – flour-dredged meat such as piccata, escalope or schnitzel.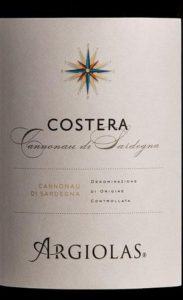 Argiolas Costera 2012
Costera is kind of humble. It doesn't cost that much, the label is unassuming, and the wine itself is more about unity and balance than anything extravagant or attention-seeking. But it's such an exceptionally satisfying, rewarding wine! Ninety percent of the cépage is Cannonau, the Sardinian Grenache, with the remaining 10 percent divided between Carignano (Carignan, for softness) and the native Bovale Sardo (structure-endowing Graciano). These ferment in stainless steel before aging for just under a year in a combination of used barrique (French oak barrels) and cement. It's a perfect medium-bodied red, silky and round, with prominent spice notes at the end. The Cannonau offers a cinnamon-vanilla expression of Grenache, sort of like a Rasteau or Gigondas from the southern Rhône. In Sardinia they cook a lot of pig and lamb over an open flame, and this is the wine for that sort of eating, but the integrated smoothness and sweet-fruit depth make it an ideal partner for slower-cooked meats (or vegetarian stews) as well.