By Holly Martzial, Marketing Director at Rosemont Market & Bakery
Bubbles. Pink, dry, bubbles please. Prosecco, if it's going to be more than one with friends. Or a fancy glass of champagne since we're celebrating. On a warm day lounging near one of Maine's pristine lakes, always rosé. When none of the above are available, a glass of vinho verde or sauvignon blanc would be nice, I request politely as I silently suppress my temptation to ask for ice. I am a professional, after all.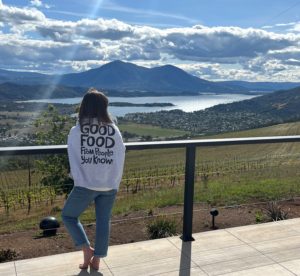 While I assert – I know what I like, I am always one for new experiences. I've drank pét-nat in cans, got funky with natural wines, reveled over glasses of grower champagne, dined with expensive reds, and sipped sherry for dessert. Yet, my naiveté keeps me quiet. "What do you taste?" they look at me, expectantly. "It's lovely," I smile.
I am the Marketing Director for Rosemont Market & Bakery. Our wine program is curated, intentional, and built on relationships forged long before my role within the organization had been conceptualized. The owners have harvested grapes across France and enjoyed lengthy dinners in the homes of winemakers in Italy, their prowess built on years of firsthand experiences. I know the stories because I've retold them, written about them in newsletters and captions for social media. I am surrounded by wine experts who feed me language, descriptions, and delicious glasses of obscure wine without ever making me feel inadequate for my lack of astuteness on the subject.
When Rosemont's Wine Director extended the invite to join a trip to California for vineyard tours on behalf of the company, I immediately jumped on the opportunity. A wave of anxiety quickly quelling my excitement – I suddenly realize there's no faking it anymore. The winemakers would surely be able to smell an amateur along with hints of grapefruit, black cherry, and horse barn. As with most things, I decide to do it anyway.
Our first official order of business – a 10am tasting at Kermit Lynch. It was time to put in work. I settle in at the large conference table and gaze beyond the handpicked lineup of bottles to the hills of Oakland framed by a large picture window in an effort to ease my nerves. We begin moving through the tasting. Our host starts with rosé. Phew… familiar territory. We advance to Muscadet, Bordeaux Blanc, Chablis, then onto Beaujolais, Languedoc, and Marsannay. I am quickly out of my league. Descriptors such as "integrated" and "soft" permeate my ears as my mouth slowly attunes to the influx of flavors. With each sniff, swirl, sip, and spit, my insecurities dissipate as I become captivated by the acquisition of my senses. I even begin to contribute, grinning with excitement because I have something to say. It is my own experience and the people around me are having theirs, but we journey together and compare notes. It is no longer intimidating, it is interesting.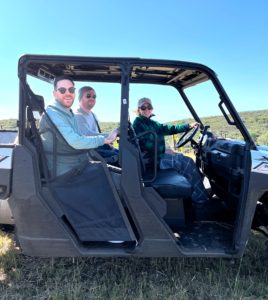 The days that follow are filled with vineyard tours and tasting rooms. We share bottles with the winemakers themselves as they tell stories about growing up on the vineyard and what it's like to navigate the wine industry in the U.S. today. We learn about microclimates on a single property, why pinot noir grapes are grown down by the river where the morning fog sits for longer while sauvignon blanc vines are planted on the south facing slope in the direct sun. We see the devastation of wildfires as our hosts recount the horrific effects of climate change and its direct impact on their livelihood.  We hear of whole vineyards not being farmed this year because of drought, and why many winemakers are seeking out grape varietals from the Mediterranean to grow here because the temperature just keeps getting warmer. We walk through wine caves, drive over mountain passes sloped by grapevines, and ride ATV's across one of the largest organic vineyards in America. We drink more wine, make friends, and share stories.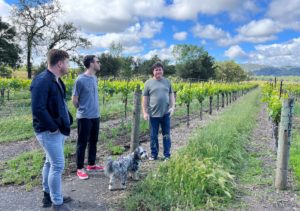 Rosemont's mission is to cultivate meaningful relationships with farmers and our community so we can all experience and access joyful food. I believe in this mission down to the core of my being. I see it in action every day when I go to work. I am surrounded by people who support it as strongly as I do. I learned on this trip that the people who are growing grapes and making wine are just like our farmer friends back in Maine. Rosemont seeks out relationships with farmers and suppliers who share our passion for quality ingredients produced consciously and sustainably. The same philosophy applies to our wine department. The folks I met in California are not concerned with the accuracy of my tasting notes. They care about me enjoying their wine, appreciating their process, and that we are all doing our part to protect the environment.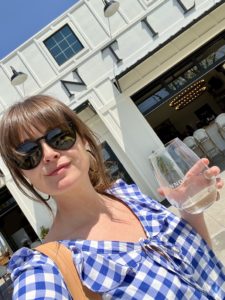 While I may still be considered a novice in the wine world, I am no longer intimidated. I hope that sharing my shift in perspective encourages others to drop the pretenses and discover what makes wine accessible and enjoyable to YOU. Our team at Rosemont is here to help, and our Wine Bar at Thompson's Point is a great place to try new things with good people who make wine feel approachable and fun. I look forward to sharing more stories of the incredible folks who are behind Rosemont's wine program in hopes that you'll think of them, and our planet, when choosing your next bottle. Cheers!